Phil Cunningham: "Our success as a company is based on speed, agility, and creativity "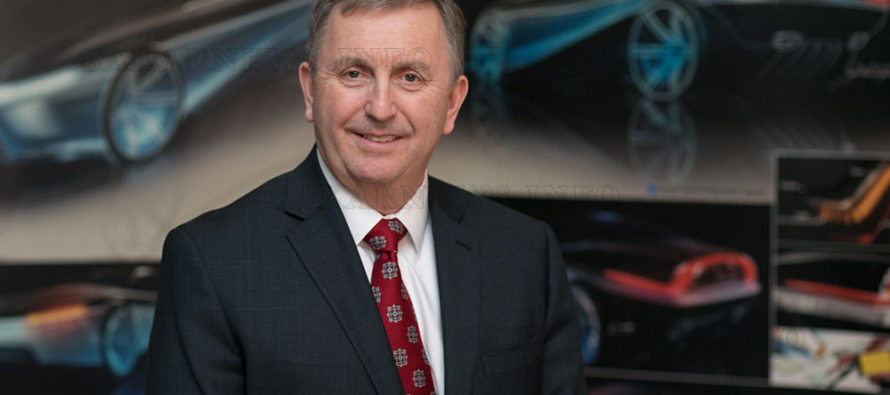 Акценти
"Sakarnes" newspaper #10/138, 8-14 march 2019
Свързани публикации
Phil Cunningham is the Senior Vice President, Strategy, and Mergers & Acquisitions at Varroc Lighting Systems. He develops short and long-term business objectives as well as pursuit opportunities for the company's growth. Phil has executive automotive expertise with prior companies including TRW Automotive, Lucas Varity and Ricardo. He has a MBA from the University of Wales as well as an HNC in mechanical engineering both in the UK. 
The first of three production phases of the company has started near Dimitrovgrad. What are the next two phases?
Plans are in the works for Phase II of this facility, which will include an additional production area of 5,000 square meters, more than doubling production capacity. Additionally, there is space available to expand further, with a facility that will be designed for big lamp production such as headlamps and tail lamps.
How many workers do you plan on hiring?
We have strategic growth plans for Bulgaria, which are aligned with a Varroc Lighting's global strategy, and consider the needs of both customers and potential customers working in this area. While we do not comment on specific job numbers, our plan is to grow from around 50 employees initially up to a few hundred in 2024.
Do you have some special requirements the candidates need to meet such as education, specific skills?
Yes, we are especially looking for candidates with experience in plastic injection and tooling maintenance.
Do you plan some additional training relevant to the new modern technologies after the initial training?
Our experienced global team is continuously placed on site to educate people about advanced technologies.
Is it possible for an ordinary worker climb the corporate ladder and to reach high levels in the hierarchy?
Each Varroc Lighting plant uses the Varroc Employee Assessment system and we have serious and tangible career progress examples in our company. At VLS Turkey, one of the Department Managers started his career as an engineer and was appointed to a manager position after demonstrating success.
Does the company have a practice of searching and training young people that are hired at Varroc after that?
Varroc Lighting Systems Last week Varroc BG have just hired two 18 years old operator for critical process and their under vary high level education.
What kind of social benefits could the employees benefit from at the company?
We have a company shuttle, a bonus system and vouchers for food.
Are the Bulgarian workers compensated the same way those in Germany, Italy and the Czech Republic for example? Will a low-level engineer get as much as his colleague in Western Europe?
Compensation is directly dependent on the employee's role and responsibilities. We always consider market value and do not compensate our employees under that.
Do you plan on engaging in activities supporting the local community, such as sponsoring certain events, cultural events, or others related to the protection of the nature and the environment?
Varroc Lighting Systems has a long tradition of corporate social responsibility. All of our locations participate in community service events, and we will support our local community here as well.
Finally, according your vision what are advantages of your company and how the potential candidates could be convinced that Varroc is the place where they could work with pleasure and could develop them self?
Our company is one of the fastest growing companies in its segment. We grow our employees and prepare them for the future through training and hands-on work. Our success as a company is based on speed, agility, and creativity to deliver customized solutions with superior service. Our location here is Bulgaria is part of a global network of professionals committed to a common set of values and a common mission.