Planting a Peace Garden together with the children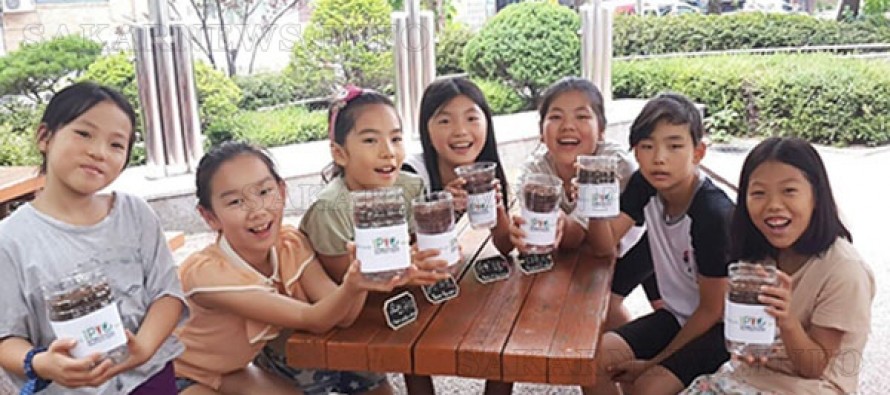 Акценти
With their own hands, the children filled the pre-prepared flower pots with some soil and planted red lettuce seeds in it.
Свързани публикации
Goyang, South Korea – On August 11th, the northern Gyeonggi Province of the International Peace Youth Group (IPYG, Director Du Hyun KIM) hosted a Peace Garden event together with the children at the Silver light neighborhood park in the city of Goyang, Deokyanggu Hwajeongdong.
This event is a part of the 'Peace Zone Project' which was initiated by IPYG and involves an activity of decorating different peace districts with beautiful plants.
The 'Peace Zone Project' which is all about creating peaceful spaces in the world we live in, appoints certain districts as peace zones or erects peace monuments in the districts. Ultimately through municipal or provincial ordinance, the project aims to appoint particular districts or landmarks like a university campus as Peace Zones.
The children who came out to play in the playground to enjoy their summer breaks also partook in this day's event with much enthusiasm. With their own hands, the children filled the pre-prepared flower pots with some soil and planted red lettuce seeds in it. And to easily distinguish their own 'Peace Gardens' from the rest, they each planted a sign bearing their names and the label 'Peace Garden'. The flower pots used on this day was a work of recycling the disposable goods that had been thrown out.
These individually completed Peace Garden flower pots were then either taken home by the children to be looked after personally or left there to be nurtured by the IPYG which would later be donated to help the creation of an actual Peace Garden in a Peace Zone. Yoo Bin Cho, a girl that had attended this day's event commented "It is so cool and exciting how the peace pot I made today will be used to make an actual peace garden in the future. I really hope the seed I planted today will grow up to be a beautiful plant". A youth volunteer, Young Min JEON also added that "If we plant the seed of peace into the minds of the children, we will be able to reap a world of peace. Personally as an adult, I want to pass on a world of peace to these children".
As an affiliated body of Heavenly Culture, World Peace, Restoration of Light (HWPL), the northern Gyeonggi province of IPYG started out the 'Peace Garden Project' to actualize the words of Chairman Man Hee LEE of HWPL: There is a strong need for everyone to have the spirit of an owner in the world we are living in. Chairman LEE stated that we need to love and care for the world that we are living in with the spirit of an owner just as the heavens above give us life by providing us with light, rain and air freely.
On a different note in July, over 700 children from five continents and 28 countries gathered in a northern African city Rabat, Morocco to celebrate 'The 9th edition of the International Festival of Children's Folkore. Through this event, the children from different countries like Morocco, Georgia, Palastine, Libya, Poland, France, Spain, The United States, England signed 'A Call for Peace' which was written and provided in five different languages. 'A Call for Peace' contains the children's message of 'wanting to live in a world where there is no wars and disputes, a green peaceful world. We hope for peace and peace only.' As this festival of peace for children was originally initiated by HM King Mohammed VI of Morocco, it is regarded as one of the main historical events within the nation of Morocco.