Chairman of HWPL Delivers Message of Peace to the UN: Stopping Global Devastation!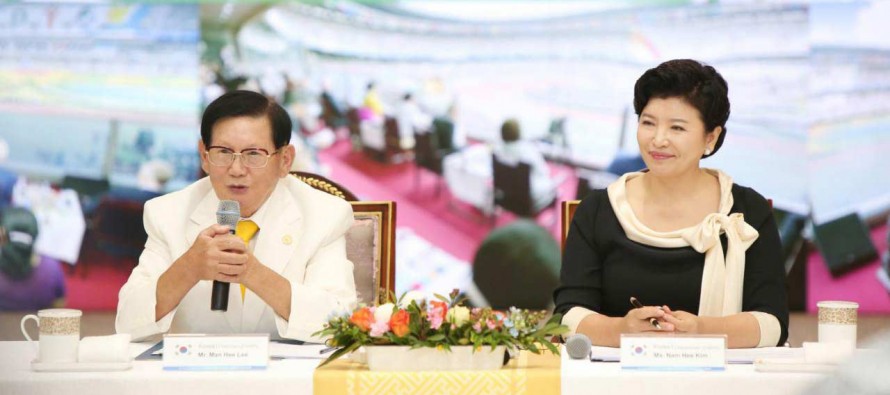 Свързани публикации
The 70th Regular Session of the UN General Assembly (UNGA 70) opened at UN Headquarters on Tuesday, 15 September 2015. The General Debate of the 70th Session of the UNGA commenced on the 28 September. On the first day of the General Debate, as President Park delivered a keynote speech at the UN Sustainable Development Summit 2015, the Chairman of Heavenly Culture, World Peace, Restoration of Light (HWPL), Mr. Man Hee Lee, also hosted The 'Global Peace Leadership: Women, Youth, and Interfaith Dialogue.'
The participants were eager to hear about the progressive work of HWPL. Mr. Lee spoke at length regarding the role of the UN and the international community. He reflected upon The World Alliance of Religions' Peace (WARP) Summit in Seoul, South Korea in 2014. It was a summit of an unprecedented scale, where all participants came together and made commitments of peace that laid the foundation for world peace. Notably, thousands showed their determination to achieve world peace by signing the Agreement to Propose the Enactment of International Law for the Cessation of Wars and World Peace and the Unity of Religions Agreement, respectively.
During the 1st Annual Commemoration of September 18th World Alliance of Religions' Peace (WARP) Summit last week, International law experts pledged to work together for the implementation of an International Convention on the Renunciation and Cessation of War and International Armed Conflicts to bring fruition to the works initiated last year. Twelve specialists were appointed as members of the HWPL International Law Peace Committee. Chairman Man Hee Lee urged international law experts engaged in the Convention on the Renunciation and Cessation of War and International Armed Conflicts. It was drafted by members of HWPL Peace Advisory Council. Through discussion and modification by the HWPL International Law Peace Committee, the draft will be revised into a pragmatic international convention. Furthermore, HWPL aims to send the final convention to heads of states for ratification, and undergo the deliberative process of the UN to be fully adopted, implemented, and overseen by the relevant UN bodies.
While in New York, Chairman Lee and Chairwoman Kim of the International Women's Peace Group (IWPG) addressed the media, women, and youth involvement on the importance of the Implementation of an International Convention on the Cessation of War and Achievement of World Peace. Upon hearing the summation of the event in Seoul, peace conscious journalists, New Yorkers and the UN community were reminded again of the crucial role they play in propagating positive messages and the hope of peace through responsible and accurate reporting.
Following this event, the two global peace leaders met with heads of state and UN officials. They also participated in high-level events as well as met religious leaders from all groups to foster the dialogue that can move the people of all faiths one step closer to peace.